Everything You Need to Lose Weight Now!
LA Life Digital
Food Tracker
Exclusive Community Support
Hundreds of Delicious Recipes
Activity Tracker
2 Bottles LA TakeOff Cleanse
28 Servings of Hunger Busting LA Lites
30 Day Supply of LA MultiVites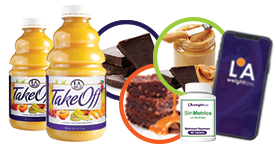 Quick Start

$ 79.01

LA Life

$ 19.99

Starter Fee

0.00

Your Total Today

$ 99.00
NO ANNUAL CONTRACT, EASY TO CANCEL. PLEASE NOTE: Plans automatically renew at the end of the month, and you will be charged at the standard monthly fee (currently shown above) until you cancel Tax additional in applicable states.